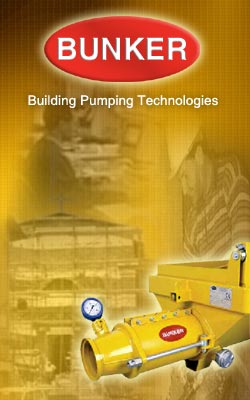 During the eighties, arose a strong demand for restoration and conservation of public properties, monuments and town centers in Italy and in Europe which created a demand of adapted machines and tools. Then, the Buonanno brothers, led by a strong familial tradition in mechanical manufacturing created BUNKER starting in the building and geotechnics sector producing cement injection pumps.

That experience was a success. Since then, BUNKER provided an important contribution to the evolution of cement-based materials pumping and spraying systems aiming at the constant innovation of products and giving the largest attention to the demands of end-users.

Those are BUNKER's commercial policy guidelines, we are a young company that quickly obtained an important role in the sector thanks to the honesty, competence and professionality of its staff.
BUNKER has a voluntarily limited plant. Nevertheless, we developed through the years a deep research work with original and concrete ideas. We offer a complete range of pumps built sometimes on demand according to specific uses. We provide an efficient consultancy, preand aftersales service.

BUNKER produces:
Screw and piston pumps for mortar, plaster and fluid cement mixes
Concrete and Self-Compacting Concrete screw pumps
Systems and machines for sprayed concrete
Systems and machines for self-levelling, light and isolating floor screeds
Mixers conveyors for floor screed
BUNKER means: a staff of 40 people in Italy based on a 4000 m2 plant and offices surface in Casandrino located 7 km away from Naples. We are represented worldwide through a network of highly specialized dealers.



Bunker improved its quality management system in compliance with the UNI EN ISO 9001 : 2000 norm ratified by Certiquality (Quality Certification Institute) with the number 7428 certificate (related to its design, production and technical documents and multimedia management systems). Bunker goes on improving its quality management system and looks for innovative solutions and technologies to continuously improve its services and guarantee products able to satisfy all users'demands.