B100xp
Jobsite freedom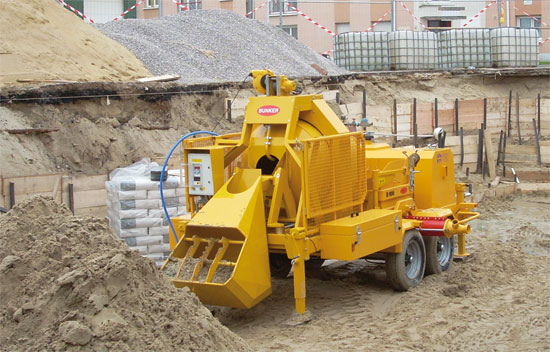 Pumping - Spraying - Plastering
The B100xp is a hydraulically-driven, trailer mounted concrete pump with progressive output and pressure regulation. Designed by Bunker to mix concrete or mortar directly on site helping builders to work faster and autonomously. This compact unit will reduce the number of machines you will need to use to get the job done.

The innovative completely portable concrete mixing and pumping unit on wheels
The steel chassis is supported by a sturdy twin axle where you'll find a 350 l (12 cubic feet) concrete mixer, a screw pump, a Diesel hydraulic power pack and all accessories that makes it a fully towable and compact unit. The concrete mixer is equipped with a loading skip with a digital weighing machine and scraping device used for an accurate feeding of materials and quick loading.