A series of articles and reports about the most beautiful construction sites where our machines are used.
#R03

The B100 on the slopes of Turin 2006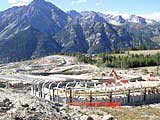 The over 65 structures required for the Olympics are situated in 8 different municipalities, which go from Turin to Pinerolo and Torre Pellice, plus 5 other municipalities in the Susa and Chisone Valley. The technical features of the B100 by Bunker have simplified the management of numerous building sites.
Machine: B100;
Company: SO.L.E.S. (Battipaglia - SA);
Place: Piedmont
#R02

A small yet big water purifier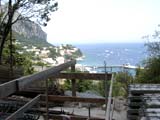 Capri, situated in the Gulf of Naples, is one of the most famous islands in the world, there is of course a large touristic interest and each year the impact of dozens thousands tourists on the water main is impressive. The company responsible for the works decided to build a temporary access road to enable building machines to reach the construction site and to let building materials arrive.
Machine: B100;
Company: Galva (Rome);
Place: Capri (NA)