Technological innovations available on the Spritz 28 R
Retractable handles (optional)
Moving your plastering machine easily around the jobsite is no longer a dream. Thanks to two retractable grab bars that can be stowed into the frame, the Spritz 28 R distinguishes itself once more by its easy use and its amazing technical solutions.
Positioning it on a jobsite or a workshop will be a child's play.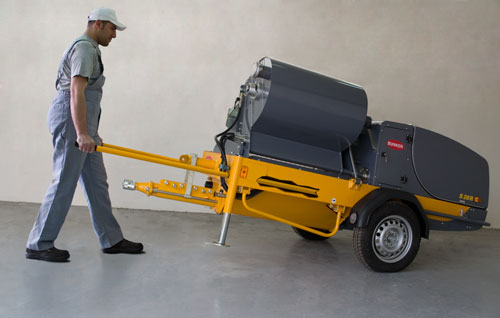 Dust attenuator (optional)
It is possible to fit out the S28 R of the dust attenuator with water meter included.

Appropriate nozzles to nebulize the water necessary for the mix and blow down the dust released with the opening of the bag with material.


| | | |
| --- | --- | --- |
| | | |
| Flowmeter | Water nozzles | Close-up nozzles |
Hydraulic stand legs (optional)
As an optional on the S28 R, we offer very useful hydraulic stand legs.

With a simple lever, you'll regulate the height of the machine effortlessly. Thus, you'll place it on the jobsite with great ease, washing the mixer and hopper will be faster.
DAT system (optional)




It is possible to fit out the S28 R with the DAT (Automatic Hose Decompression) which inverts the rotation of the screw pump for a few seconds when you close the mortar/air valve.
This device will diminish the pressure from the hoses.

Spray gun (patented)
The special spray gun allows with a unique lever to interrupt both the air passage and the mortar passage.

The spray gun is provided as an optional with the DAT system device.
More powerful compressor (standard)
The new and more powerful compressor, a standard equipment on the S28 R is equipped with an oil level sensor which will allow you to check the lubricating oil level.

Moreover the compressor is fit out on a device that allows the Automatic Belt Tensioning (TAC system),which makes its lifetime longer and makes replacement easier.
New motorized systems
New Kubota
The most powerful of the category.
Reliable and quiet.

3 cylinders
1305 cm³
29,5 hp a 3000 rpm
used at 2000 rpm
Cooling: Water
Automatic minimum

Lombardini
Powerful and reliable.

2 cylinders
1248 cm³
29 hp a 3000 rpm
used at 2000 rpm
Cooling: Air
Automatic minimum