The ideal plastering machine for the building contractor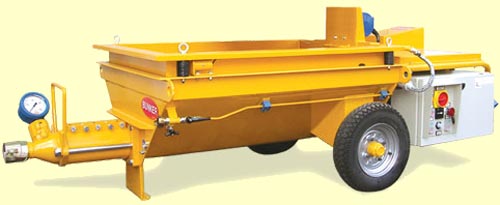 Plastering - Conveying - Spraying - Injecting
Pioneers
Bunker has been the first company (starting from 1995) to develop and use the electronic INVERTER starting device on plastering machines having contributed to their expansion.
Its low power consumption
Its output regulation from 0 until the maximum value
The biggest pumpable grain size of its category (10 mm)
Here are some of the features that contributed to the success of this small big plastering machine. Produced in Italy and commercialized all over the world, it is available in many versions: single-phase, three-phase, with or without mixer.
From plaster to concrete up to 8 mm, from injections to transport
Capable of comfortably responding to the multiple requirements of the modern construction site, it can be used both in the construction of new buildings as well as restoration work.
Its minimal dimensions and light weight allow an easy transport and on-site positioning.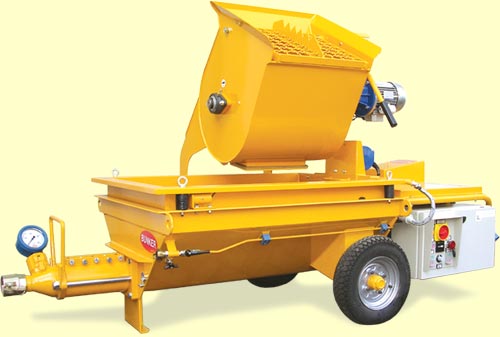 Controls are all on a single waterproof control panel enabling an easy control of all the machine's functions. Moreover, its control panel is fitted with an hour-counter helping thus to plan work and maintenance.
| | |
| --- | --- |
| Above all, the electric box is equipped of an important electronic device, the INVERTER allows output control but also reduces drastically power consumption when starting the machine. | |

Thanks to the high grain size and the variable output rate, it is possible to pump, spray and inject:
Traditional plasters, both for indoors and outdoors
Pre-mixed plasters, both for indoors and outdoors
Special plasters
Fibre-reinforced mortars
Refractory mortars
Mortars for joint filling
Self-levelling floor screeds
Pre-packed mortar and special products for structural work on concrete and stone buildings
It's also possible to spray concrete on steel wire meshes for restoration works. Thanks to a practical kit, it is possible to carry out cement slurries injections at a controlled pressure. Using the appropriate spray gun, it's possible to fill joints or connections.
| | |
| --- | --- |
| Fully accessoried with its accessories as : a compressor, a vibrating screen, a mortar spraying and a hose cleaning kit , a manometer and a remote control, a user's and maintenance manual, a tool case including essential spare parts. | |
The S8 EV is ready to work