B30 stilo - Practical and reliable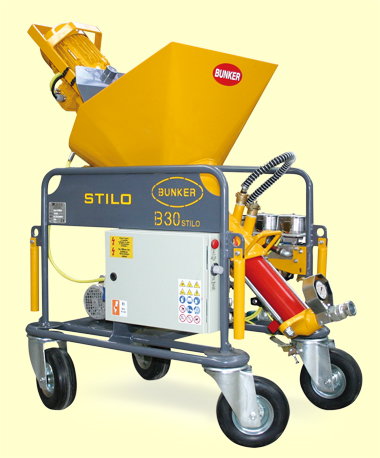 Overturning hopper
It is possible to change the inclination of the hopper so that the replacement of the stator is quicker and comfortable.
Safety switch
A safety switch stops the electric motor of the mixing shaft when the mixing chamber and the protective grid are opened.
Speed adjustment of the screw pump
On the single-phase version, driven by an inverter drive, it is possibile to vary the speed of the screw pump , from zero to the maximum value, thanks to the potentiometer placed on electrical control panel.

Air compressor
Membrane air compressor 250 liter/min mounted on the three-phase
version.

Control panel
The electrical control panel allows the control of all functions of the machine in a simple way

Handles
Easy to move thanks to the handles.
Technical data
| | | |
| --- | --- | --- |
| | | Single Phase - Three-phase |
| Pump motor | | 3,00 kW - 5,5 kW |
| Engine water pump | | 0,33 kW |
| Air Compressor | | 200 L/min - 250 L/min |
| Theoretical output | | 0-17 L/min ** - 30L/min** |
| Pumping distance | | 15m*(tubo Ø35-25)- 40m*(tubo Ø 25) |
| Maximum pressure pumping | | 15 bar - 30 bar |
| Minimum water pressure required | | 2,5 bar |
| Hopper capacity | | 60 L |
| Loading height | | 1020 mm |
| Dimensions LxWxH mm | | 950x700x1540 |
| Total Weight | | 204 Kg - 215 Kg |
| Weight individual units: | | Chassis: 114 Kg (with air compressor) - 99 Kg |
| | | Hopper: 40 Kg |
| | | Geared motor: 50 Kg - 51 Kg |
| | | Air compressor: 25 Kg (only three-phase) |
* Depending on material, its consistency and hoses diameter.
** With the stator and rotor D4 eco (single phase) D 6-3 (three-phase)