B100xp Piston Pump
No limit on the building site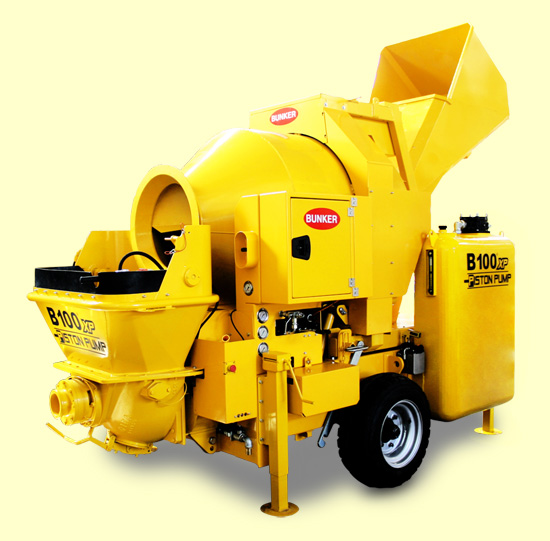 The B100xp Piston Pump is a hydraulically-driven, trailer mounted concrete pump. Designed by Bunker to mix concrete directly on site helping builders to work faster and autonomously.
This compact unit will reduce the number of machines you will need to use to get the job done. On steel structure you'll find a 650 liters concrete mixer with loading skip, a piston pump, a Diesel hydraulic power pack driven by a diesel engine DEUTZ and all accessories that makes it a fully towable and compact unit.
The B100XP Piston Pump is equipped with a pumping unit "CIFA series 6" with variable capacity and constant power.


• Engine Deutz.
• "S" shaped valve for any type of concrete,
with special steel and different thicknesses
• Rapid valve exchange
• Ideal operation even at high pressure with
continuos and smooth pumping flow
• Automatic wear compensation
• Hydraulic system in open circuit
• Transformation of the pumping units from high
to low pressure or viceversa
• Low noise
• Low running costs
• Easy maintenance and quick cleaning operations
• Security on the inspection hatch.
• Hydraulic water pump 50 l / min -120 bar.
• Complete wash hose with nozzle.